Professional development for commercial lenders who want to be the best.
Small Business Finance Institute offers video training on lending fundamentals, financial analysis, underwriting, and the various lending channels (CRE, SBA, ABL, etc.) where you distribute capital. We also provide mentoring tutorials to help management lead lending teams more effectively and enable Board Directors to make better credit decisions.
SBFI training is available through streaming video on-demand for individuals or group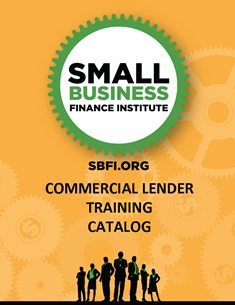 participation and adds value by reducing training costs and the expenses associated with sending employees out of the office. Unlike webinars, scheduled during peak office hours, video training is available when you want it, in the sequence you want to use it.
To view courses offered in various lender experience ranges or topic categories in the website, navigate through them here.
SBFI is building a curriculum of commercial lending courses to enhance every career and help lenders move upward to the next level of success. All of our commercial lender training is provided through streaming video on-demand, and is developed and presented by commercial lenders with 'hands-on' experience or due diligence professionals from several disciplines that affect commercial lending.

Download our latest Commercial Lender Training catalog here.
This company was founded on the premise of providing sound, relevant and principled information and resources to support and promote the commercial lending sector and its participants. We advocate for distribution of credit capital in a prudent, responsible manner that utilizes time-tested, regulatory compliant practices, which inures to the benefit of all stakeholders.

Unless otherwise noted, video licensing is limited to seven (7) days from the date of purchase. Click here to read SBFI Video Licensing Agreement.
For instructions on navigating SBFI's video training channel, click here.
Pricing questions? Find answers here.
Learn more about Small Business Finance Institute here.
Subscribe to AdviceOnLoan, our weekly commercial lending newsletter here to stay up-to-date on news, information and vital performance data for the best commercial lenders.