SBFI has designed a curriculum that offers broad lessons about lending fundamentals, as well as extensive tutorials on topics like financial analysis, collateral due diligence and a thorough explanation of how to navigate various lending sectors. Our goal is to present training content that either teaches new skills in preparation for greater responsibilities, or offers a fresh perspective to reinvigorate the management of one's current job.
Course pricing is structured in recognition of the research, production time, cost–and extensive experience–that are all required to produce some of the most intuitive, productive, professional development training available for the commercial lending industry. Pricing tiers reflect the length or specialization of the training courses, and are offered for both individual or group licenses.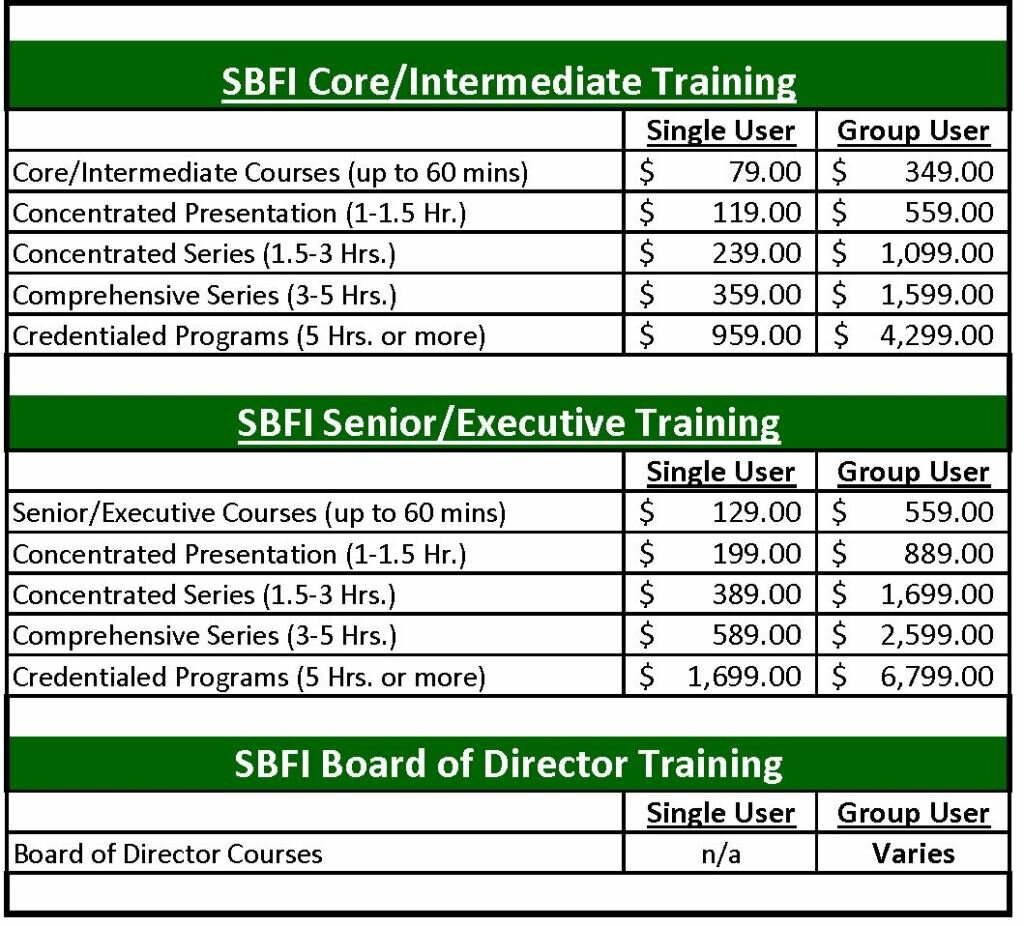 Course viewing is provided through a site licence that generally offers access to the site for seven days, unless otherwise restricted. Individual licenses are restricted to one user only–any license violation will subject violators to consequences described in the site license.
SBFI lending courses are all developed and taught by seasoned commercial lenders who have more than 20 years' experience of hands-on transaction work. Due diligence and support courses are provided by subject-matter experts who teach from successful careers in the many disciplines lenders interact with daily.
There will be many courses added in the months ahead that will enlarge or reinforce what you know about the range of lending disciplines, like C&I, commercial real estate, government guaranteed, asset-based lending and others. In addition, we'll offer courses to sharpen your skills in credit underwriting, loan administration, loan closing, loan review and other areas in the business of lending.
While most of our initial programming is aimed at business developers, underwriters, credit analysts, and senior lending management, we won't stop there. Our training assets will soon encompass programming that targets loan processors, credit administrators, portfolio servicing staff and even the collections and workout representatives.
Learning is lifetime adventure–the very best people in any industry continue to improve improve their skills over the life of their career.
For more information, contact .