The Independent Community Bankers of America®, the nation's voice for nearly 7,000 community banks of all sizes and charter types, is dedicated exclusively to representing the interests of the community banking industry and its membership through effective advocacy, best-in-class education and high-quality products and services.
Founded in 1930 by a small group of community bankers in Minnesota, ICBA has since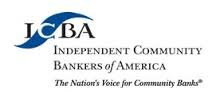 grown to become the nation's leading banking association. ICBA is based in Washington, District of Columbia and maintains statewide chapters across the country. ICBA's mission is to create and promote and environment where community banks flourish.
With nearly 5,000 members, representing more than 24,000 locations nationwide and employing 300,000 Americans, ICBA members hold $1.2 trillion in assets, $1 trillion in deposits, and $750 billion in loans to consumers, small businesses and the agricultural community.
ICBA aggregates the power of its members to provide:
Powerful advocacy for community banking interests in Washington
Critical and timely community bank education
Products and services that help give community banks a competitive edge.
ICBA supports fair competition for financial institutions, maintaining the separation of banking and commerce, and a balanced financial system to prevent the concentration of economic and financial-services resources.
ICBA is committed to upholding the highest professional standards in community banking and providing programs tailored specifically for community bankers. ICBA offers educational courses, certification options and continuing education programs, to ensure that community bankers are better able to serve their customers and stay profitable.
ICBA holds its annual convention in March.
For more information, visit ICBA.