For Release August 14, 2015, 8:00 a.m.
Contact: Marilyn Pearlman 404.298.6910
Atlanta, GA — August 14, 2015 Charles Green, Managing Director of The Small Business Finance Institute (SBFI) announced that the company 'enthusiastically' endorses the "Small Business Borrowers' Bill of Rights," which was announced last week in Washington DC by the Responsible Business Lending Coalition.
According to the coalition's website, "The way small businesses borrow money is being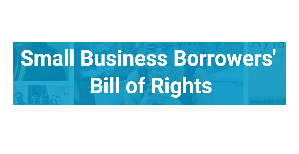 transformed. Innovators are providing faster and easier ways to borrow, and increasing access to credit in communities that have been underserved. This transformation will achieve its potential only if it is built on transparency, fairness, and putting the rights of borrowers at the center of the lending process. To that end, we have identified the fundamental financing rights that we believe all small businesses deserve. We encourage the entire small business financing industry to join us in upholding these rights."
Green commented, "Fintech lending is emerging from a long list of technological advances and is coming of age, and in the process, has introduced new parties in the business financing arena. Some of these parties don't respect the traditions of the trade and their practices made many of the clients actual victims of financial abuse." He continued, "I applaud the coalition's work to get out in front of these issues and tackle them with honor and sincerity; I hope that many more lenders will step up to honor the borrower's bill of rights. SBFI advocates for sound lender performance with respect of the highest ethical standards and fair dealing with client." said Green.
Green formed SBFI to provide training and resources to the commercial lending sector and has a 30+ year career in the small business financing. He recently published "Banker's Guide to New Small Business Finance," (2014, John Wiley & Sons) that provides insight into the innovative financing sector. In addition, he authored Get Financing Now (2012, McGraw-Hill) and The SBA Loan Book, 3rd Edition (2011, Adams Media).
Small Business Finance Institute offers professional development training to commercial lenders to meet the challenges of client financing, industry changes and career advancement. For more info visit SBFI.org.
CHARLES GREEN IS AVAILABLE FOR INTERVIEW.
Contact: Marilyn Pearlman, 404.298.6910 or