The International Factoring Association is the world's largest and most respected association serving the factoring and receivable finance industry. IFA's goal is to assist the factoring community by providing information, training, purchasing power and a resource for the factoring community. IFA is headquartered in Pismo Beach, California.
Founded in 1999, the International Factoring Association has grown to over 375 finance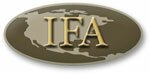 companies as members. IFA provides a way for commercial factors to get together and discuss a variety of issues and concerns in the industry. By working together, commercial factors have an easy way to disseminate information and have a single voice in the marketplace. Association members also have group buying power in negotiating for goods and services.
IFA members include factoring companies, asset based lenders and other receivables finance companies. The IFA provides a forum for member organizations to meet and discuss issues and concerns, share best practices, disseminate information and promote a single voice to the marketplace. The IFA is the leading provider of training for the factoring industry and thousands of factoring and secured lending professionals have taken advantage of the IFA's training programs since the IFA was founded.
The IFA hosts annual conferences and exhibits. On its website, members have access to job board postings, directories of preferred vendors, a member directory, legal documents and an online store of articles, books and other business tools for factors. IFA offers various services including training courses, meetings, conferences, magazines, legal consulting, lead generation, membership discounts, job board and networking.
Additional information is available at www.factoring.org.