The Equipment Leasing and Finance Association (ELFA) is the trade association representing financial services companies and manufacturers in the $827 billion U.S. equipment finance sector. ELFA is founded in 1961 and is based in Washington, District of Columbia.
ELFA's mission is to provide member companies with a forum for industry development, a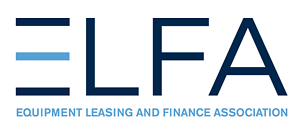 platform to advocate for the industry and a principal resource for industry information and ethical standards.
ELFA represents more than 580 member companies, including many of the nation's largest financial services companies and manufacturers, as well as regional and community banks and independent medium and small finance companies throughout the country. Members include broker and packagers, investment banks, service providers, independent leasing and finance companies, captive finance companies, commercial banks, and diversified financial services companies.
ELFA membership also includes a number of multinational financial and manufacturing companies operating in the U.S. The clients of ELFA members range from Fortune 100 companies to small and medium sized enterprises to governments and non-profits.
ELFA's principal activities include federal government relations, state government relations, industry information, business and professional development, outreach to end users, financial accounting, legal issues, and international outreach.
ELFA provides multiple opportunities for the equipment leasing and finance community to network and learn via a variety of channels, including face-to-face conferences and workshops and web-based programs. The ELFA Academy provides high-quality, interactive training and resources for equipment leasing and finance professionals, and ELFA's website has a resource center which is an online portal to educational content from ELFA's conferences.
ELFA holds its Annual Convention each October.
For more information, go to www.elfaonline.org.