Hakim Kassam has joined BankUnited as its Senior Vice President and National Sales Manager. In this capacity, he is responsible for BankUnited's Small Business Finance department, where he will be leading a nationwide team of SBF business development officers.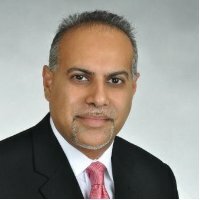 A top producer of SBA loans, Kassam brings over 24 years of direct banking experience to his new role. Most of his years in the industry were spent leading teams of small business loan officers across the southern and eastern regions of the United States. He has been recognized by the SBA as a Financial Services Champion of the Year for Florida and the southeast region of the U.S.
Kassam joins BankUnited from Wells Fargo Bank in Fort Lauderdale, where he served as Vice President, Regional Sales Manager of its SBA Division. With Wells Fargo, he managed a team of 13 business development officers in Florida, North Carolina and South Carolina.
Previously, he was a Board Member at IDS Corporation, a Certified Development Company in Florida that originates and approves debentures under the SBA 504 loan program. His experience also includes serving top leadership roles at Community South Bank, Temecula Valley Bank, and Imperial Bank.
"Hakim is an authoritative expert on small business financing, who will lead and grow BankUnited's small business finance department. We are pleased to welcome him to our BankUnited team," commented Bankunited Chairman, President and CEO John Kanas.
Kassam earned a bachelor's degree in business administration and an MBA in finance from the University of Miami.
About BankUnited N.A.
BankUnited N.A. is a national bank and a wholly-owned subsidiary of BankUnited, Inc. Headquartered in Miami Lakes, Florida, it operates 100 branches in 15 Florida counties and six banking centers in the New York metropolitan area. For additional information, visit www.bankunited.com.