Dennis Smiley, the former president of Arvest Bank, pleaded guilty to bank fraud charges before U.S. District Judge P.K. Holmes III. Smiley didn't wait for the criminal investigation into his loan schemes, which had been going on for nearly 18 months to be concluded and decided to waive the indictment and entered into a plea agreement with federal prosecutors.
Due to the crime being a low risk one, Smiley was released after he posted a $10,000 bond.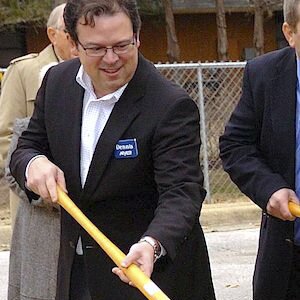 Arvest bank settled with 18 other banks who had loaned Smiley more than $3.5 million backed by the same $50,000 collateral in Smiley's Arvest retirement account. Benton County Circuit Judge John Scott approved Arvest Bank's request to continue with the remaining civil trials until after Smiley's criminal plea to avoid his taking the Fifth Amendment on cross examination.
According to a spokeswoman for the U.S. Attorney's Office, sentencing will take place after three to four months. In the meantime, the prosecution will prepare the standard pre-sentencing report in support of the sentence being sought.
The sentence Smiley will receive is anybody's guess. If Judge Holmes goes by the sentencing guidelines, Smiley could face maximum of 71 months in prison, but that's unlikely to happen. The judge is likely to sentence less than that. In any case, it will be mandatory for Smiley to serve 80% of the sentence he receives. Smiley may also be ordered to pay restitution which will be set by the court and paid to the institutions suffering losses due to Smiley's crimes. A three year's probation will most likely follow the prison term.
According to the insiders familiar with the case, Smiley along with his attorney has been busy settling the debts before sentencing. They have decided to settle as much of the debt as possible with the help of a family friend. This will not affect his sentence but will most likely lower the amount of restitution Smiley will be required to pay.